'Twas the night before Christmas, and into the house dropped a troupe of badass she-elves, as quiet as a mouse. They were Playboy.com Cybergirls and they'd had it up to here with Santa taking the credit for their work every year.
This time they wouldn't take it! No! The limelight would be theirs! So they took Santa hostage, yes they gave him quite a scare. They tied the old elf up and they shook all the boxes! They brought the fuckin' ruckus like three stone cold foxes.
Luckily for us, our camera crew was there, and we filmed all the madness so with you we could share our very first video for the Holiday time, and we love it so much that it caused us to rhyme.
From our family to yours, we hope you enjoy! So much that you share it with every girl and every boy.
Happy Holidays from Playboy.com!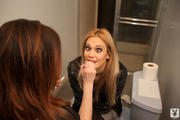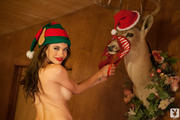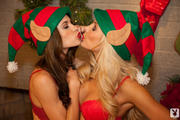 Dani Mathers
Height:
5' 2"
Weight:
100 lbs
Measurements:
33D-23-31
Birthplace:
Los Angeles , CA
Birthday:
05/01/1987
Lauren Elise
Height:
5' 3"
Weight:
110 lbs
Measurements:
34D-25-31
Birthplace:
Dallas, TX
Birthday:
09/15/1987
Download from here for free
+ Video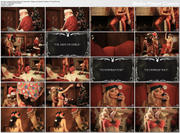 General:
Filename: septimiu29-Dani Mathers & Lauren Elise - Playboy.com Hijack's Christmas - 21 Dec 2012.mp4
Filesize: 78.6 MiB
Format: MPEG-4
PlayTime: 00:02:09.195
1 video stream(s), 1 audio stream(s), 0 subtitle stream(s).
Video Stream 0:
Length: 00:02:09.195
Frames: 3872, 29.970 fps, 4906 Kbps
Codec: avc1 (Family: )
Dimensions: 1920x1080, AR: 16/9
Audio Stream 0:
Title: IsoMedia File Produced by Google, 5-11-2011
Codec: AAC, AAC,
Bitrate: 192 Kbps
Bitrate Mode: CBR
Sampling Rate: 44 KHz
Channel(s): 2 channel
Resolution: 16 bits per sample
Download the full video from here for free